New in the Toppoint catalogue: augmented reality.
Bring selected products to life with your smartphone!

Watch the instruction video below: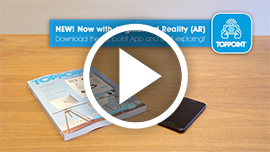 Augmented reality is a live image of the reality to which elements are added using this app. With the help of augmented reality, we try to provide you with more information about our products! This way you can enjoy interactive 3D models, videos & additional product information.
Download the app on your smartphone, scan the marker and let yourself be surprised by the magical world of augmented reality.